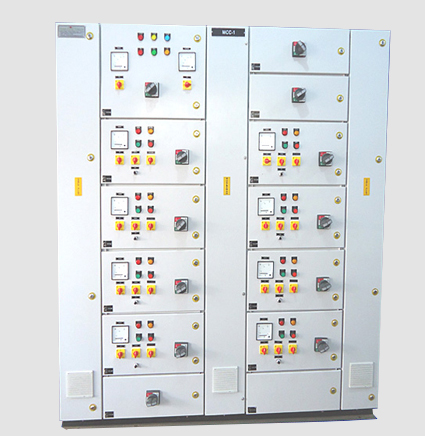 This motor control center panels is exclusive tailor made product & is designed as per requirement of customer. Nos. of motors are started from this panel center & mostly these are DOL or Star- delta Starter motors. All the push buttons & indicators are mounted on panel or remote controlled.
Features
:-
• Simplex & Duplex pattern.
• Degree of Protection :-IP-42 to IP-65.
• Painting: - Powder Coating / Spray Paint / Epoxy Paint.
• Compartmentalized design eliminates risk to maintenance personal.
• Sufficient space for incoming and outgoing cables.
• Provided with buzzer & hooter during emergency.
• Separate Bus bar and cable chambers.
• Motor Control Center shall have hinged door with lockable arrangement.
• Motor Control Center shall have detachable gland plates of 2-3mm thick.
• Motor Control Center Available with Aluninium / copper bus bar.
• Fabricated with 2/2.5/3mm CRCA sheet steel.
• Motor Control Center is suitable for use on 415V, 3Phase, 4 wire, 50H.z
Application
:-
These are widely used for :-
• Protection against electrical Short Circuit, overload and earth fault of the system.
• Control & monitoring of the entire electrical system of an industry / plant.
• Systematic power catering to various load of an electrical system.
• Normally used in Hospitals, Multi-storied buildings, steel industries, cement industry, open –cast mines, shopping mall etc.
We offer the following options and facilities
:-
• ASTA certified bus bar systems (50KA for 1 sec as standard).
• Separation: Form 4 Type 2 as standard but types 3, 6 and 7 available if required
• Ingress protection up to IP65
• Wall mounting or floor standing
• Top, bottom or special cable entry
• Front or rear cabling access
• Fixed, plug–in or withdrawable type
• Full range of instruments and metering to customers requirements
• Contactor, soft start and variable speed drives
• Local or remote control
• Wired to separate terminal chambers
• Facilities for thermal imaging
• Local or remote manual controls
• Relay or PLC automatic controls
• Alarm systems
• Alarm annunciators
• BMS interface
• Special control systems to customers requirements