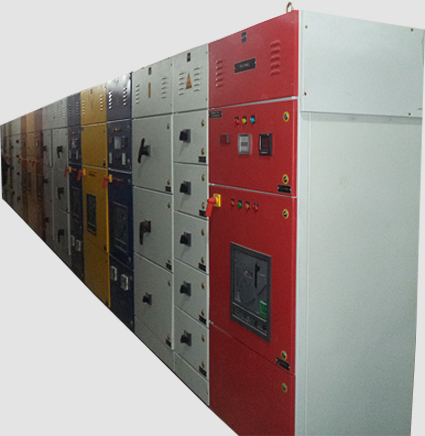 We are manufacturer and supplier of PCC Panel. We offer PCC panels which are used for diverse industrial applications and provide reliable and effective service. With best usage and productivity, these offer high controllability and also available at market leading prices. We offer superior quality PCC Panel to control power production and distribution. Click Photo to Enlarge enlarge
Features :-
• Panels will be suitable for 415 ± 6% volt, 3 phase (4 W + E) 50 HZ AC supply .
• Installed indoors and will work efficiently up to an ambient temperature of 50°C.
• All doors will be suitably labeled and marked for convenience of operation maintenance.
Construction :-
•
Type
:
Single /double sided.Modular design, free standing and will have fixed or draw out type executions as many be desired.
•
Finish
:
The entire panel will undergo pretreatment covering decreasing, water rinsing & de-rusting/ phosphating. It will be synthetic enamel painted or powder coated as per requirements.
•
Bus Bars
:
Uniform cross section copper Bus Bars (current density 1.39 amps/sq mm.) supported by SMC /DMC bases will be employed through out the length of the panel.
•
Internal Wiring
:
Wiring be carried out with 1100/650 volt grade PVC insulated stranded conductor wire. All joints will be solidly crimped using copper thimbles
•
Earthing Bus
:
Bus Bars will be running all along the board.
•
Earthing Bus
:
Bus Bars will be running all along the board.
•
Switch Gears/ Components
Along with the formal offer, the GA drawing and the bill of material will be submitted specifying the makes & capacities of all the material to be used in the panel.
•
Standards
:
Our Panels confirms to the standards such as, IS 4237; IS 8623; IS 375 We can offer sheet steel or GRP enclosures with standard grey or special colour epoxy finish suitable for indoor or outdoor location, with ingress protection up to IP66.
All types of control can be offered with the following options/facilities:
• Motor control
• Process control
• Environmental control (Heating & Vent)
• Any other controls to customers special requirement
• Cable entries as required
• Local or remote manual controls
• Relay or PLC automatic controls
• BMS interface
• Instrumentation as required
• Alarm systems
• Alarm annunciators
• Mimic diagrams